We specialize in the sale of industrial equipment, specifically pneumatic components. Our selection includes, but is not limited to: solenoid valves, air preparation equipment, cylinders, fittings, gauges and air actuators. In addition to parts sales, we also offer custom built panels and actuation assemblies.

We are also able to equip our customers with pre-assembled pneumatic systems.
Valves can be preassembled into banks and be tested. Filters can be connected with regulators and lubricators to make "FRL" air preparation systems, and countless other combinations are possible. Also, "kits" containing particular items can be compiled to specification and be individually boxed, ready for you to distribute! If you have a niche to fill, contact one of our sales people about the construction of a customized system.
Westvale Industrial Supply, established in 1993, prides itself in the quality and range of products offered and the technical knowledge of its staff. We feel that the quality and personal service we offer is what has kept our loyal customers coming back to us for over 27 years.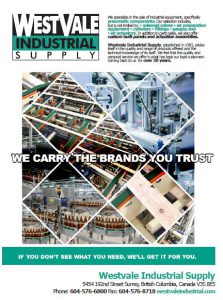 Actuators – cylinders
Westvale offers a comprehensive range from all the leading manufacturers with a choice of VDMA, ISO standard, pneumatic cylinders and air actuators. Both metric and imperial bore sizes are available.
Control valves
Our range of control valves consists of solenoid, air pilot operated and safety, along with manual and mechanical valves. Additional valve types from leading manufacturers include process, proportional pressure, flow and system valves and all the accessories to go with them.
Air Preparation FRL
Filters, Regulators, Filter/Regulators, Lubricators, Combinations, Air Dryers, Relief Valves, Pressure Gauges and Accessories.
Fittings
We stock push-in tube fittings in brass and polymer for both imperial and metric size tubing and both imperial and metric pipe threads.
Tubing
We stock polyethylene, polyurethane and nylon tubing in both metric and imperial sizes in a variety of colours.
Pressure switches
The range of pressure switches we supply includes electric, electronic and pneumatic switches that cover a wide variety of mediums including aggressive liquids and gases.
Vacuum products
Our offering of vacuum products includes suction cups, filters, generators, gauges, switches and accessories.
Process Valves & Equipment
We offer an extensive range of process valves and related equipment including piston, globe, solenoid, steam and pressure operated valves as well as valves for oil, water, air and vacuum.
Control panels
Please consult us for any requirements to enable us to quote to your exact specification.
5454 192nd Street Surrey, British Columbia, Canada V3S 8E5
Phone: 604-576-6800 Fax: 604-576-8718
Hours of Operation: Monday – Friday 8:00AM to 4:30PM

Purchasing
Maria